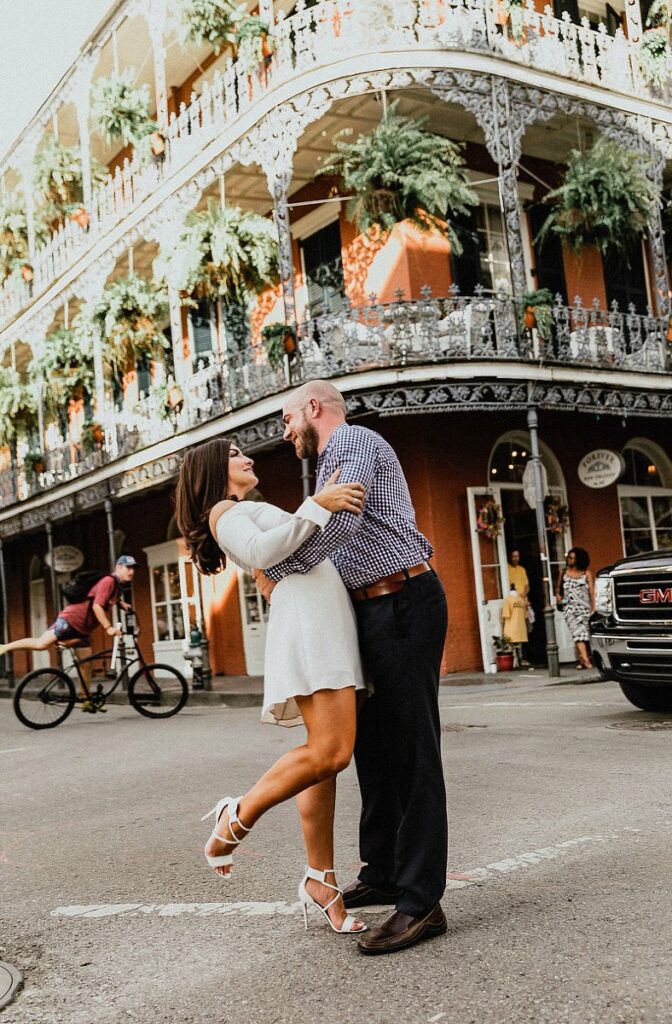 Jeff & I traveled to New Orleans this year to celebrate our 10 year anniversary. New Orleans holds a special place in our hearts because we often met there while we were dating long distance as it is half way between Houston & Atlanta.
New Orleans is such a special city. It is filled with old Southern charm and is just dirty enough to make you feel good about the bad decisions you make while you are enjoying your stay.
After visiting the city over a decade, these are my recommendations for a good time in the big easy.
Fav Accommodation Recommendations:
The W – business district – want a posh vibe but desire to be outside the noise of the quarter? The W is a great option. They also allow pets.
Hotel Monteleone – tucked in the quarter just a few block away from Bourbon Street this hotel has been open since the early 1900s. Famous for its rotating carousel bar the lobby stays live but the rooms are nice and quiet.
Royal Street Bed and Breakfast – if you are more of a BNB person this family owned and operated home on Royal Street has comfortable accommodations in a traditional turn of the century New Orleans home
Eats
Central Grocery – home of the Original Muffuletta – when you first make your way to the French Quarter/Jackson Square be sure to stop here. Take an extra muffuletta to go and stash it in your hotel room for sustenance after a night of heavy drinking.
Cafe du Monde – come here for your basic pic on the gram but move on. The beniegts are good but Hotel Monteleone has better ones.
Muriel's on Jackson Square – come here for a romantic date and to try your luck at experiencing paranormal activity. I personally like to get the cheese plate and a glass (or two) of wine before heading out to my dinner destination.
Drago's – forget the long line at Acme Oyster Co. in the French Quarter. Head over toward the Harrah's and enjoy grilled Oyster Rockefeller at the bar area. Soak up all the butter that runneth over with the generous serving of sourdough bread that is included. This is also a great stop before your final dinner destination.

Cane & Table – This nook is located near Jackson Square and has no sign on the door. Step inside for amazing craft cocktails and whatever you do order the ribs.
Cochon – This new spot located in city central is worth the walk/uber fare. A pork based menu featuring homemade smoked meats leaves the industrial chic restaurant lingering with your favorite open fire smells. Side note: the music selection was impeccable during our dining experience; think late 90's and early 2000's rap
Willa Jean – Also located outside of the quarter this new spot is a MUST STOP. Get the griddled banana bread as if your life depends on it. I enjoyed the sweet tabasco honey chicken buscuit. My mouth is watering now.
The Ruby Slipper – this breakfast/brunch spot has to be good because it has tripled in locations since our last visit. You cannot go wrong here. One is ideally located in the French Quarter. The bottomless mimosas are a sure fire cure for your hangover.
Drinks & Views
Bourbon Street – Pat O'Briens, Absinthe House, and stop and get a hand grenade or hurricane at any of the places along the way. I am breezing over Bourbon Street because the street itself is the experience. As you walk up and down Bourbon, no matter what day or time during the year, you will see people enjoying themselves to the fullest. Stop in different places as you go to experience the variety of establishments in New Orleans.
Frenchman Street – If you want to have drinks listening to live music outside Bourbon Street head over to Frenchmen Street. It's a quick pedi cab ride away and it will give you a whole different insight to what New Orleans has to offer. My experience has always been to get dropped off and walk until you see a spot that has the kind of music you enjoy without a line to get in the door.
Hotel Pontchatrain  & Jack Rose Restaurant – why did it take 10 years of visiting this city to make it out this way? Rooftop views of New Orleans with craft cocktails on the rooftop bar. Enjoy dinner and the amazing decor on the main level at Jack Rose Restaurant. Famous pop artist Ashley Longshore has one of her infamous Lil Wayne paintings hanging here. According to the bartender there is often a line to take a picture under Lil Tunechi LOL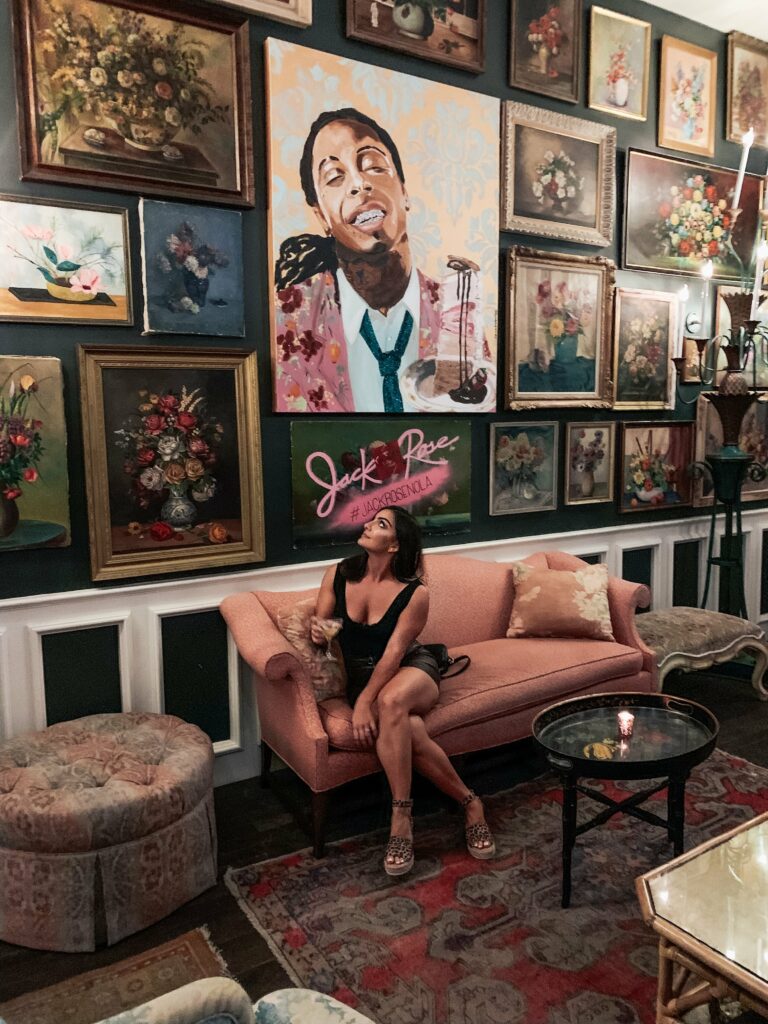 Vessel – if you want to go off the beaten path and go where the locals go – go to Vessel. Located in an old church this picturesque spot has an impressive food menu as well. We enjoyed the scallops & craft cocktails here.
Wow, what a long post! I feel like I could go on and on about everything New Orleans has to offer. I didn't even touch on the antique stores, the art galleries, and the resale shops. It is such a special city.